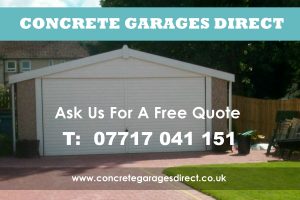 Concrete Garages Direct can supply and build a wide range of concrete sectional garages in various sizes and styles.
We can also relace garage doors or install new garage doors as well as replacing garage roofs or fitting new garage roofs.
At Concrete Garages Direct we supply and build high quality concrete garages at unbeatable prices.
Concrete Garages Direct have built a renowned reputation for the supply and construction of quality concrete sectional garages with over 50 years experience. Competitively priced, the range is amongst the most extensive available in Scotland.
Our Products are made from quality components from leading manufacturers ensuring a perfect result every time we install a concrete garage.
With styles to suit any property, traditional or modern and a comprehensive 10 year guarantee, we are confident that our products and workmanship are equal to any on the market.
Website & Social Media Links:
Concrete Garages Direct
#concretegarages #garagedoors #glasgow #edinburgh #lanarkshire #ayrshire #scotland 07717 041 151
Various sizes and styles available – double garages single garages flat roof apex roof etc
Concrete Garages Direct can provide a range of concrete buildings including all groundwork solutions.
www.concretegaragesdirect.co.uk
We can supply and build concrete garages all over Scotland including: Glasgow, Edinburgh, Aberdeen, Dundee, Inverness, Perth, Stirling, East Kilbride, Falkirk, Fife, Lanarkshire, Paisley, Ayrshire.