Dawyck Botanic Garden is a botanic garden and arboretum covering 25 ha at Stobo on the B712, 8 miles south of Peebles in the Scottish Borders region of Scotland, OS ref. NT168352. The garden is situated in the Upper Tweed Valley, a National Scenic Area.
Dawyck Botanic Garden is a five star Garden renowned for its seasonal displays of snowdrops, bluebells, rhododendrons, azaleas, blue poppies and autumn colour.
Address: Stobo, Scottish Borders EH45 9JU
Phone: 01721 760254
Located in the hills of the Scottish Borders, 65-acre Dawyck enjoys an almost continental climate comprising warm dry summers followed by cold, snowy winters. Plants from the mountainous regions of Europe, China, Nepal, Japan and North America thrive here. Garden features include:
Heritage Trees: Dawyck has one of Scotland's finest tree collections including some of Britain's oldest and tallest trees, dating back to 1680. Look out for Douglas fir, European Silver fir and Giant Sierra redwoods.
Azalea Terrace: This historic terrace is a blaze of colour when azaleas bloom in May and June.
Blue Poppies: The meconopsis, a Himalayan native, thrives in Dawyck's conditions and a carpet of blue flowers appears under the tree canopy in early June.
Heron Wood Reserve: The Cryptogamic Sanctuary is the world's first reserve for mosses, liverworts, lichens and fungi.
Snowdrops: Delicate Galanthus cover the banks of the Scrape Burn in February.
Dawyck offers woodland and burnside walks, themed tree trails and visitors can follow the adventures of plant explorers such as David Douglas, after whom the Douglas fir is named.
Many of the plants at Dawyck are the first examples collected and brought to Scotland. The Garden has now become a sanctuary for endangered plants, a collection not only for conservation and study, but, as originally intended, a place of beauty to be enjoyed.
CLICK ON IMAGE BELOW TO VISIT WEBSITE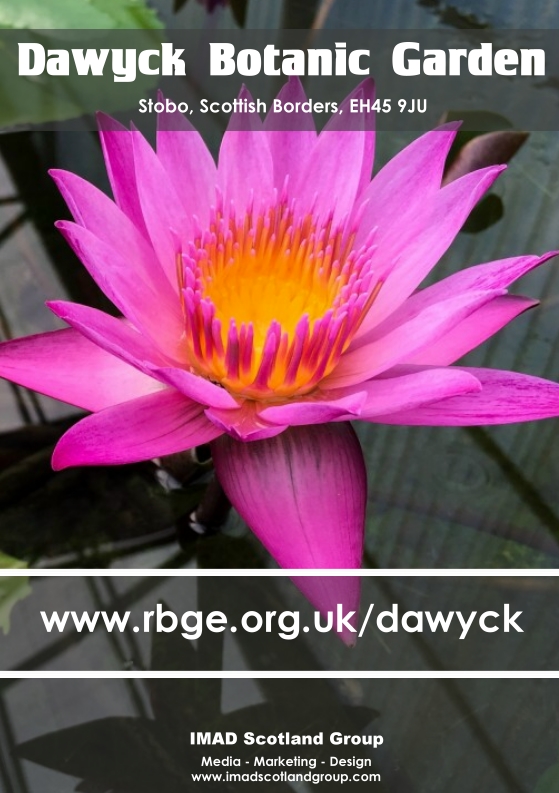 MORE INFO LINKS:
WEBSITE: www.rbge.org.uk/visit/dawyck-botanic-garden/
VISIT SCOTLAND: www.visitscotland.com/info/see-do/dawyck-botanic-garden-p249681
WIKIPEDIA: https://en.wikipedia.org/wiki/Dawyck_Botanic_Garden
*Image Credit: https://commons.wikimedia.org/wiki/File:Dawyck_House_-_geograph.org.uk_-_383943.jpg